Study Abroad
Fun Activities in the Garden of England
Fun Activities in the Garden of England
Nestled in the heart of the Garden of England, the University of Kent – one of the UK's leading universities – offers you the perfect study abroad destination. From giant cinema screens set up in the shadow of castles to fantastic festivals, days at the beach, and wild nights out on safari, the local area is jam-packed with top ways to enjoy yourself, whatever the time of year.
As lecturers and students of the University bask in the current UK heatwave, we get our cool summer drinks ready and check out what the county of Kent has in store this summer!
Dusk safari

Escape the crowds and enjoy a wild night out at Port Lympne Reserve this summer! Settle in on a cool, sultry evening on a rustic safari truck and rumble through Kent's savannah at dusk, enjoying sensational sunset views across the countryside where giraffes, rhinos, and buffalo roam free! Wind up your day with a three-course meal at the Port Lympne Hotel!
Open Air Cinema at Leeds Castle
Stretch out your picnic blanket and prepare to be wowed because it doesn't get much more magical than this. In August 2019, fans of musicals will be treated to spellbinding open air screenings of The Greatest Showman, Mamma Mia! Here We Go Again and Bohemian Rhapsody. What better way to spend an evening than dancing and singing along to your favourite musical numbers in the shadow of the 'world's loveliest castle'?
Broadstairs Summer Fireworks
While Guy Fawkes Night is beloved by most, locals can't help but look forward to watching a spectacular firework display lighting up Kent's skies – but without the frozen fingers and toes. Round off a day on the coast with live music and sweeping views across Viking Bay as the skies are lit up over Broadstairs for this stunning one-off event.
Daredevil Weekend at Betteshanger
Summer isn't all deckchairs and cocktails, you know – Betteshanger Park is ramping things up with grueling outdoor fitness sessions. The all-weather, army-style outdoor courses are based on tried and tested military training techniques with motivation provided by Her Majesty's Armed Forces trained instructors. Whether you're a novice to exercise or a seasoned pro, be prepared to be put through your paces. You'll get muddy. You'll get sweaty. You'll be pushed to your limits. But you'll burn calories by the bucket load and have a fitness level to be proud of!
Shakespeare at Smallhythe Place
There's nothing like indulging in a spot of culture in Kent's countryside, glass in hand and picnic blanket over your knees. Experience some of the Bard's most popular plays within the grounds of actress Ellen Terry's house and expect a night of humour, confusion and magical moments as Twelfth Night, Macbeth, and Much Ado About Nothing are brought to life at the Barn Theatre.
Canterbury Cathedral Archives & Library Tour with Afternoon Tea
History buffs have a treat in store for them in the heart of the historic city of Canterbury. Venture behind-the-scenes at one of England's most iconic cathedrals with a special chance to delve into the Canterbury Cathedral Archives and Library. Put the cherry on top of your day with a delicious afternoon tea in the Canterbury Cathedral Lodge, overlooking the courtyard garden and those striking spires.
Sunset Sessions
Embrace care-free summer days and nights of days gone by, with a long, balmy evening of live music at Dreamland Margate. The stylish amusement park by the sea is one of the places to head to for the best in live music and great outdoor acts this summer, and you'll be treated to a fantastic line-up of DJs. A nostalgic setting, sea air, and great music, what could be better?
Festival Fun
Foodies, music lovers, motoring fanatics, just take your pick from Kent's festival season line-up! As the summer rolls on, all you need to worry about is dusting off your prettiest boho dress or your sturdiest wellies and choosing from festival favourites like the Faversham Hop Festival, Neverworld, and Margate Pride!
Alfresco Dining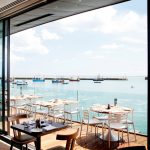 It wouldn't be summer without the clinking of ice cubes and a sensational alfresco setting, would it? Be it coastal terrace or rooftop bar, we've rounded up Kent's best spots for when you feel like lazing on a sunny afternoon.
Explore London and Europe
As the University of Kent's UK campuses are less than an hour away from London, you can easily enjoy days and nights out in the exciting capital. And because Canterbury is also the closest UK city to mainland Europe, it is the ideal jumping off point to discover Paris, Brussels or Rome.
Learn more about the University of Kent
This article was last edited on August 15, 2019.